The Wedding Dress Code: what guests should wear
Weddings, like most other events, follow a dress code that indicates the rules of etiquette.
There are many variables that need to be taken into consideration as these could influence the wedding dress code. If you're wondering what these are, please continue reading as I have some tips to share, so you won't ever have any problems when deciding what to wear.
A dress code is a set of rules specifying the type of clothing to be worn when participating in an event.
Dress codes are created out of social perceptions and norms, and vary according to different circumstances and occasions. Each ceremony has its own dress code to follow and this does not depend on the latest fashion trends or personal taste.
There are different etiquette rules for formal or informal ceremonies, but it's always best to consider all of them as formal, unless otherwise stated by the spouses. For this reason, the first thing you need to do is to look at your invitation. This is actually where you will find all the necessary information regarding the event and that's why it's always important to mention the required dress code.
The information is usually found on the bottom left-hand corner of the invitation. However, if it's not indicated, you'll still be able to understand what to wear by bearing in mind if it's a daytime or evening wedding, in which location it will take place, if the marriage ceremony will be civil or religious and the season of the year.
After all these considerations, it's now time to open your wardrobe and look for a suitable dress for the occasion and, why not, you may find a perfect excuse to indulge in some shopping!
Formal attire for men and women.
Is formal attire requested?
Women should make a careful choice of colour, when deciding on formal clothing.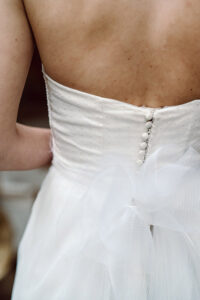 It's safe to avoid wearing white, beige or cream since the various shades of white are exclusively reserved for the bride. Female guests have many other colours to choose from. Pastel colours like pink, soft salmon or light blue are certainly a good choice, otherwise you can opt for darker tones like pine green, blue, etc.
It would be best not to wear red, but if this colour particularly suits you and you don't want to give it up, make sure the dress is not low-cut, as sober as possible, and not too bright.
Apart from avoiding white clothing you should also give up the total-black look, but you can feel free to wear other dark hues, such as midnight blue.
As with red, if you are really fond of black, I strongly suggest creating a color contrast with the accessories you will be wearing: necklace, shoes, bag.
The same rule applies to men, who should also avoid wearing white or bold colours, preferring shades of blue or grey in order not to steal the show from the groom. Etiquette suggests wearing a tight for a daytime wedding. For formal evening ceremonies you may receive invitations indicating that a tuxedo, black tailcoat or "white tie" is required. In Italy, however, this is usually only used for very solemn evening occasions.
For Women, the dress code for a formal daytime wedding ceremony is a chic monochrome below-the-knee or longuette dress, that is not see-through or low-cut, matched with a hat or veil, a clutch and closed-toe shoes.
For evening weddings a full-length gown is more appropriate. You can complete the look with a small bag, closed-toe shoes and jewellery.
Also make sure you avoid any off-the-shoulder dresses that leave you too uncovered as well as large bags, short skirts, sunglasses, tight-fitting dresses, with extravagant necklines and transparencies.
If you read Lounge Suit or Dark Suit on your wedding invitation, you can consider yourself lucky since it's the least problematic dress code of all. For gentlemen, this consists of a blue or gray suit for daytime weddings, which can be black if the wedding is in the evening. In both cases, the suit will be matched with a white shirt, a tie and strictly black shoes. As for the accessories, dark long socks, a simple belt and possibly a white handkerchief or pocket square.
The Lounge Suit dress code for ladies, on the other hand, means they can wear a knee-length or below-the-knee dress, but certainly not a full-length gown. Women can also choose to combine elegant trousers with a blouse or wear an evening trouser-suit, high-heeled shoes or sandals and a clutch or an evening mini-bag.
What to wear for weddings with no dress code
So, what should guests wear if the wedding has no specific dress code?
In this case one must presume the dress code is elegant. During the day, men's attire can be a gray or blue suit, white shirt, tie and lace-up shoes. For evening weddings, they can follow the same daytime dress code but should prefer darker hues, like midnight blue or dark grey.
Women can wear a below-the-knee dress, with a high-heeled shoe and choose pastel colors or shades that are not too bold. What about the type of bag? It must always be small.
For evening ceremonies, a very elegant below-the-knee dress or a full-length gown is the best choice, always matched with high-heeled shoes and a clutch.
Last but not least, what should we wear when we receive a Cocktail invitation? In this case ladies can wear a cocktail dress, which is knee-length or slightly shorter, with bold and shiny colours, or a trouser or skirt and blouse, matched with a blazer.
Men, on the other hand, can wear elegant trousers, preferably in dark shades, with a white or light-colored shirt. The jacket should have the same tone as the pants. The tie should also always follow the suit's colour combination. What about the belt? It should possibly always match with the shoes.
How important is the choice of the dress according to the location?
This is paramount. The examples I have given so far are perfect for a wedding in a beautiful villa, a luxury hotel, or a restaurant.
However, if the wedding is informal and is celebrated elsewhere, such as on a beach, men can wear a plain-coloured shirt with no tie, jeans and closed-toe moccasins. Women can wear a colorful knee-high, floral-patterned dress and sandals.
Bear in mind that informal weddings are less common, so in this case the spouses will communicate their decision on their wedding invitations. The same rule applies to themed weddings.
Well, all you need to do now is read your wedding invitation and choose the most suitable outfit!