My first BLOG article, photo shoot and partners
I'm so excited today to be writing the first article of my blog.
There are many things that I would like to write about. I could write about weddings, events and wedding proposals, or about vegan and sustainable ceremonies, or I could even write about the working environment of a Wedding Planner, to explain how this world completely fills my life with commitment and gratification.
Today, however, I would like to dedicate this article to the partners who I worked with when I designed a photo shoot that I am particularly fond of, and also because one of the important tasks for a Wedding Planner is to find professional but also reliable people to work with, who must be precise, punctual and able to manage any last-minute inconveniences in order to make sure that everything runs smoothly and perfectly on the big day. So newly-weds can say something like: "The beauty of this day has truly exceeded our expectations" when saying goodbye.
Most of the photos and videos on this website were taken during the photo shoot I organized last April.
The idea came to me when I realized that I wanted to use images that were completely new and that could convey what it means for me to be a Wedding Planner and Designer.
The first step was choosing the location. Should it be by the sea, on the hills, or by the lake? Or why not in an ancient little borough on the outskirts of Rome? And after a short search I came across this villa and was immediately fascinated by it and its beautiful romantic tower, almost completely covered by wisteria in full bloom.
This setting was the perfect frame for the painting I had in mind. So, the first step was taken: Borgo della Merluzza would become the right canvas for my paintbrush.
I didn't even have to think too hard about who would be helping me to find the perfect match between the warm brick colours of the villa walls and the floral décor's colour palette: Anna Speranza of Floreventi was the perfect person. She agreed to my idea of combining both fresh and dried flowers and using tones of green and pastel colors for the project.
The furnishings by Preludio helped me to create different settings: a wintery look for the interiors and a fresh spring vibe for the outdoor setting.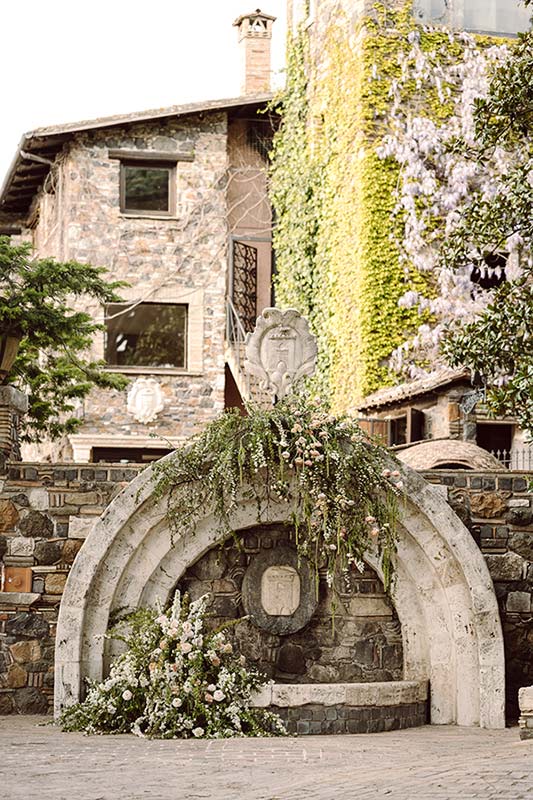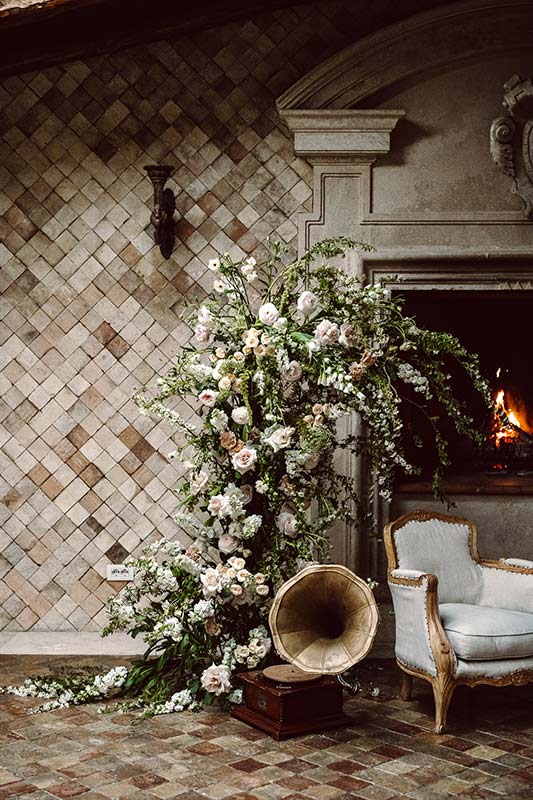 We created an intimate environment, with two armchairs and an old record player for the indoor setting, so as to have an area in which to relax in front of the fireplace with background music. For the outdoor settings, we created a beautiful floral arch for photo shoots and of course the wedding table for the bride and groom and their closest guests: a bare, light-coloured wooden table with cream-colored cushions on the surrounding chairs. The powder pink color theme framed the whole Mise En Place which perfectly matched the golden rimmed plates and golden cutlery.
The wonderful wedding stationery, which Eventilab beautifully designed for the menus, invitations and place cards, in powder pink and moss green, blended perfectly well with the surrounding colours of the villa's tree-lined lanes.
The inspiration for the third setting of our photo shoot came from Anna di Floreventi and her team, who created a beautiful arch of flowers around the fountain at the entrance to the borough. A big thank you also goes to the magnificent floral arrangements provided by Mr M Flowers and the fabulous greenery supplied by Punto Verde.
One of my favorite photos is the one in which the bride and groom are admiring the table setting, both their outfits are tailor-made and are splendid examples of how Italian highly specialised craftmanship can turn fabric into bespoke works of art.
The wedding dress was designed and tailored by Sarah Taschin from Once Upon a Time Atelier. An ethereal dress, white as a cloud.
The groom's suit was designed by the famous Sartoria Carbone, which has been creating unique tailored suits since 1957.
The make-up and hair styling, created by Giorgia Bertoldi, further enhanced the bride's face and dress. Giorgia created a simple, glowing make-up with an updo hairstyle that framed Alice's beautiful face.
Last but not least, I would like to conclude by talking about the people who have turned my dreams into real photos and videos, these are: photographer Marcella Cistola and video-maker Paolo Furente. Their creative work has allowed everything to become real so that I can now share it with everyone. I remember how excited I was on the day I received the photos and video. Marcella and Paolo's photography direction and careful use of lighting and colour actually exceed my expectations. You can perceive every single emotion and sensation experienced that day by simply observing their images.
I love my job because it allows me to make my clients' dreams come true, whether they are celebrating their wedding or organising a private party or corporate event. I enjoy every single aspect of my job because it is stimulating, creative and fun. Each satisfied client, happy couple and successful event is the greatest satisfaction I can achieve.
If an event is successful, I am not the only one to thank. With my partners we are a team, working together side by side to make sure your event is even more beautiful than what you had dreamt.