Italian
Destination Wedding Dreams
Luxury Wedding
Planner & Designer
Welcome to
the world of unforgettable
weddings in Italy, where your dreams come to life in the most captivating settings.
Immerse yourself in the timeless beauty of Italy with breathtaking destinations that will make your wedding truly extraordinary. Picture an enchanting ceremony in romantic Umbria, an affair of pure elegance in Verona, or a mountain backdrop that takes your breath away in Trentino. Explore the majestic allure of Trento or the timeless charm of Venice. Indulge in the splendor of Lake Como, Lake Garda, or Lake Maggiore. Imagine a stunning villa or a panoramic terrace in Rome, or the idyllic landscapes of the Tuscany. Let these evocative descriptions transport you to your perfect wedding destination.
Make a wish and we'll take care of the rest.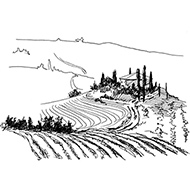 Exclusively Tailored for You:
When planning a wedding, you know which direction you would like it to go, but it's hard to imagine how to get there. 
We specialize in creating exclusive and luxurious weddings that surpass all expectations. Our services are designed for couples who desire the utmost elegance and sophistication. From intimate affairs to grand celebrations, we curate every detail to reflect your unique style and vision.

And if you're worried about the distance, we can arrange video calls and audiovisual media. It will feel like being there in person.
ENJOY YOUR SPECIAL DAY WITH PEACE OF MIND.
Step into the world of wedding design, where your love story becomes a masterpiece. You are the painting and we will design the perfect frame around you. The thinking process of the creative project includes everything: the choice of the colour palette, the planning of the moodboard; the selection of materials and fittings; the mise en place; the composition of the flower decorations with the help of a floral designer; the look&feel of the graphic project for the wedding stationery (menus, tableau, invitations, etc.); the choice of gifts for the guests; the choice of music and of an original and creative setting.
The planning of such an important event is perhaps the most delicate phase. We need to not only identify the ideal and most reliable suppliers, but we also need to constantly check that costs are within budget, ensuring a seamless and stress-free experience. We take care of all the logistics aspects, such as transfers and overnight stays, and prepare a time line and an accurate agenda, so that everything on the great day runs smoothly and flawlessly. You'll have the freedom to focus on personal touches, such as selecting your wedding attire and rings, knowing that every detail is expertly taken care of. We are also very careful about sustainability, because the environment needs to be respected. On this note, we can organise elaborate vegetarian or vegan menus, typical dishes with local products from the Farmer's Market or floral decorations that follow the Slow Flower Movement philosophy.
The big day has arrived. Why let unnecessary worries overshadow the joyous moments? On your wedding day, we will be your trusted coordinator, ensuring a smooth and enchanting experience from start to finish. During the coordination phase, time control and management is crucial, making sure any décor, catering or related services are carefully orchestrated. All this is carried out with utmost discretion, because the best direction is always invisible to the guests. Relax and immerse yourself in the joyous moments, while we create a truly unforgettable wedding experience for you and your guests.
Reeling in cherished memories as we turn your wedding into an unforgettable experience.
WE DON'T WORK WITH COMMISSIONS FROM SUPPLIERS BECAUSE WE WOULD LIKE TO BE TRANSPARENT AND CHOOSE YOUR SUPPLIERS ONLY ON THE BASIS OF THEIR PROFESSIONALISM, WORK EXPERIENCE AND QUALITY. IN THIS WAY YOU CAN HAVE ALSO SPECIAL RATES OR ADDITIONAL SERVICES.
YOUR DREAM WEDDING IN ITALY AWAITS.
Take the First Step:
Contact us today to schedule your complimentary consultation and begin planning your extraordinary celebration in the
heart of Italy
.
Remember, happiness can't be bought, but with our expertise, dedication, and attention to detail, we'll work together to make your dream wedding a reality.
Book your complimentary consultation today
Your perfect wedding starts from here.
You can send me an email or, even better, call me directly. Please find my contact details below. If you prefer to be contacted, please enter your references and a brief description of your needs and we'll get back to you as soon as possible.