Destination
wedding in Italy
Getting married
in a dream location.
It isn't just a dream.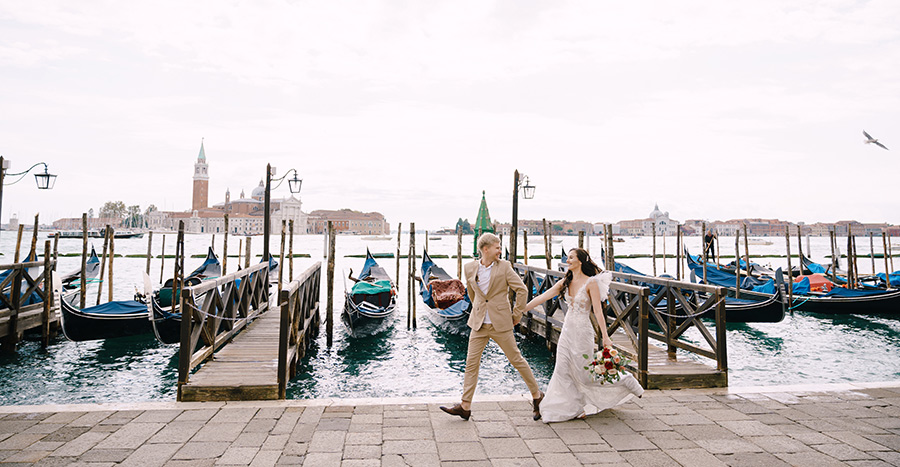 "I would like to get married on the Moon, in the Crater of Happiness, with all the guests in bright spacesuits".
This isn't possible yet, but it will soon be. When the time comes you can be sure it will be on our list. In the meantime, there are other dream destinations here on Earth. How about Rome? What about Amalfi or Lake Como or Venezia? A masseria in Apulia? Or maybe in the of the Chianti area? There is no place where your dream cannot come true, however distant that may be.
When planning a wedding, you know which direction you would like it to go, but it's hard to imagine how to get there.
There are many aspects to consider and often a detail can be missed, there may be some things that haven't been considered.
The best approach is to tackle the problem in its entire complexity and then follow it up in stages, solving the solutions together, one bit at a time. By agreeing on and verifying each single detail of the process in person, by phone or with a video call, you can make your dream come true.
Our process starts from the initial planning of the idea, the creative project, following you right through to the design and final execution: the coordination of the wedding event. You can also choose to customise our services according to your needs.
Make a wish and we'll take care of the rest: from the transfer to the accommodation of the newlyweds and the guests, from the wedding ceremony to the reception, from the organization of tourist tours to the fun and entertaining activities. And if you're worried about the distance, we can arrange video calls and audiovisual media. It will feel like being there in person.
It's not a dream. You can have your wedding in Italy.
You can contact me directly or leave your details in the form below and we'll get back to you as soon as possible.
Your perfect wedding starts from here.
You can send me an email or, even better, call me directly. Please find my contact details below. If you prefer to be contacted, please enter your references and a brief description of your needs and we'll get back to you as soon as possible.